'I did it, and so can you': Meet Tayler Grover, MQ-25 Engineering Technical Specialist
Grit is that little something extra that separates successful people from the rest. MQ-25 Engineering Technical Specialist Tayler Grover has felt that something extra ever since she was a little girl who looked up and saw airplanes in the sky. As a child, Tayler and her mom would watch planes take off and land at St. Louis Lambert Airport. One day, Tayler saw a Boeing F/A-18 fighter jet take off and caught a glimpse of her future.
"I saw that jet and knew then and there I wanted to be an engineer," Tayler said. "I was just a kid from St. Louis with a dream and Boeing was the answer for me," she added.
Tayler knew she needed education to make her dream a reality. She worked two jobs and went to college full time to become an engineer, but was having difficulty making ends meet and felt overwhelmed.
"I was broke and tired; but, I had to make something happen," Tayler said. "So, I enlisted in the Air Force to get some life experience and get my hands on some jets!"
She served six years in the military as an aircraft armament technician. She served in Italy and North Carolina working on F-15 and F-16 aircraft. Tayler's Air Force experience maintaining aircraft helped her land a job as a flight operations mechanic at Boeing.
"I told the interviewer, 'I worked on your aircraft, I know them inside and out'—it worked and I'm convinced that's how I got hired," Tayler said.
Tayler works for the MQ-25 Stingray program, Boeing's unmanned aerial refueler for the U.S. Navy. She says when she first saw the MQ-25, she was mesmerized and curious how the aircraft worked.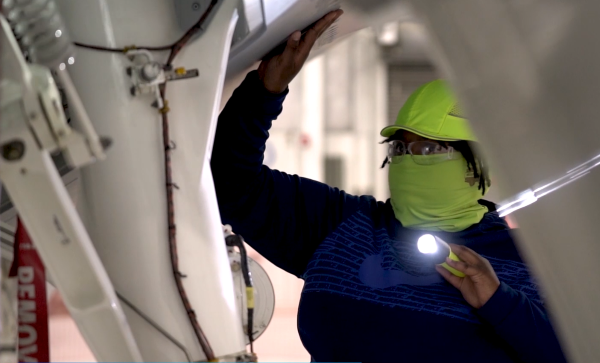 "I was really excited to work on something that hadn't been done yet," Tayler said. "The best part of my mechanic job was I got to touch aircraft all day and I got to make them go!"
Tayler had accomplished her goal of working for Boeing. But, she put off pursuing her engineering degree to concentrate on her career. She began asking other engineers about their jobs, and they could see her work ethic, drive and thirst for knowledge. Those conversations presented opportunities. Tayler learned about Boeing's Learning Together Program, which pays the full cost of tuition and books for eligible STEM related fields, and decided to reignite her passion for engineering.
"The Learning Together Program lets people know that Boeing believes in its employees to invest in their education," Tayler said.
Tayler is earning her two-year engineering degree and received a promotion to engineering technical specialist. She also has her sights on a bachelor's degree. Tayler can't wait to tell her family, particularly her grandma, that her job title is electrical engineer.
"My grandma took me under her wing and taught me to go after the things I want. She is my backbone, my wind and without her I wouldn't be here today," she said.
Tayler feels the sky is the limit and says it all started with her desire to look up.
"Hard work and dedication, no matter where you come from, no matter your background or your ethnicity or gender, you can become what you want to be," Tayler said. "I am a living testament to it. I did it and so can you."

Learning together
Boeing's tuition assistance program, the Learning Together Program, offers generous funding to help you enhance your skills—and learn new ones—at more than 300 accredited colleges and universities. Eligibility begins the first day of the month after you are hired. There is no annual limit on tuition assistance if you are enrolled in eligible science, technology, engineering and mathematics degree and certificate courses.
See more of the ways we invest in our employees' learning and development to help them have a great career.