Tips for Rocking Your New Role, Remotely

Interpersonal relationships in the workplace are necessary to collaborate, to teach and to grow. But how does a brand-new employee, during a global pandemic, establish those connections without the face-to-face interaction? For Megan Hillard, marketing lead, Global Sales & Marketing for Homeland Missile Defense, it was a struggle.
Megan joined Boeing in March of 2020 — just days after many employees were sent home to telework due to COVID-19. "Starting a brand-new job in the middle of a pandemic was such a challenge. It was hard for me to learn my role, at first," Megan said. "Everyone was at home, so I had met only my immediate team face to face. I found the biggest hurdle for me was not knowing whom to contact for what."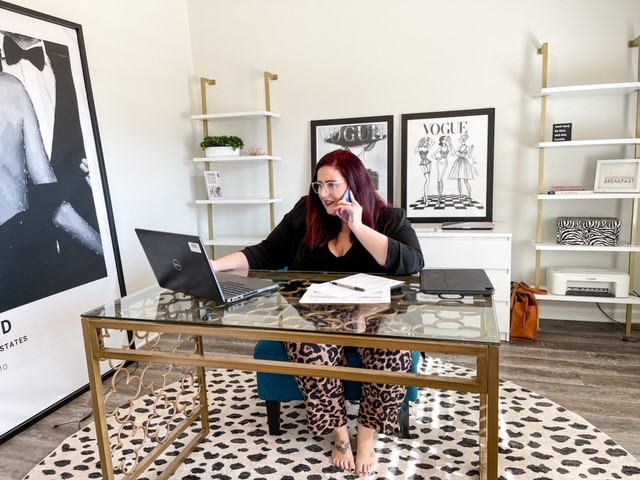 But all of that changed quickly. Within just a few weeks of starting, Megan was offered the opportunity to assist with developing a classified missile defense proposal for a military customer. "I have a background in graphic design and an on-site proposal team needed help in that area since it was such a big project," Megan said. So, she rolled up her sleeves, went into Boeing's local office and dived in head first.
"It's so different than a regular work environment," Megan said of proposal work. "It's a more 'casual vibe' and allows you to get to know the team really well, since you are spending so much time together."
A big challenge was working on-site in a classified environment during a global pandemic. "There were so many extra steps we had to take to keep everything clean and sanitized," Megan said. "It was so important that everyone remained well, because if one person was exposed or tested positive for COVID-19, it could have affected the entire proposal." Thanks to their diligence in wearing masks, physically distancing and adhering to COVID-19 protocols, no teammates actively working the proposal became ill.
While tackling a new, classified project was intimidating at first, Megan says it made for a memorable time. "I was very happy that I ended up on the team. This proposal was such a huge effort, and seeing everyone working so hard in order to have the best offering possible motivated me! I also had great mentors along the way, who took the time to invest in me and ensure my success."

Starting a new role remotely?
Megan has some advice to other "newbies" that may find themselves in a similar situation.
Ask questions: "You're not expected to know everything when you first start," Megan said. "I asked questions all the time, about processes, backgrounds, people, anything and everything. People were more than happy to answer — and even elaborate, which helped me tremendously."
Get involved: "Even though some of us are still working virtually, there are so many great Boeing Resource Groups (BRG) you can get involved in to help you meet people within the company. I joined REACH Huntsville and attended several virtual events where we played games or learned about a new technology. It allowed me to meet people I otherwise wouldn't have, and develop long-lasting friendships. Today, I'm now the Huntsville communications focal for REACH and the Global Sales & Marketing Diversity and Inclusion Champions Council."
Keep a Routine: "Many of us haven't worked virtually before – and when starting a new job, you may want to go above and beyond to make a good impression. But, be sure to keep your ambition in balance by maintaining a routine that defines when you start and when you stop working. Schedule breaks – and take a walk during your lunch hour. Those small changes can make all of the difference, and help prevent burnout."