Kristine Ramos, Space Launch System Engineer, Aims High

When Kristine Ramos was in college researching methanol fuel cells and nanocrystalline magnets, she had no idea that one day she would work on solid rocket boosters for the space shuttle program, or help design and build NASA's Space Launch System (SLS), the rocket that will take the first woman and first person of color to the moon.
As a chemical engineering major, she feared she'd be confined to the oil, gas or medical fields. But she took a chance and applied to United Space Alliance in 2008 for a material and process engineering job.
Before she knew it, she was conducting inspections on the launch pad 24 hours prior to shuttle launches and, 72 hours later, conducting post-flight booster assessments that she compares to forensics work.
"It wasn't anything I ever thought I could do in aerospace with my background," Ramos said.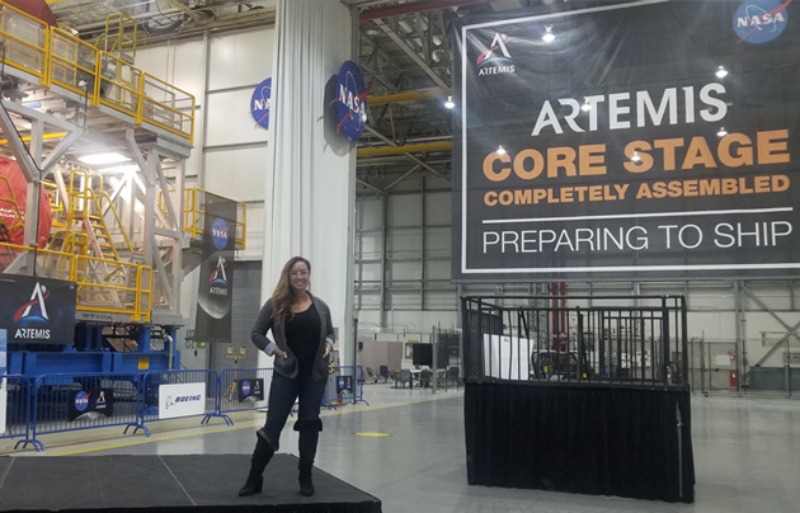 Ramos celebrates completion of the first NASA SLS core stage at Artemis Day at the Michoud Assembly Facility in December 2019. (Boeing Photo)
After 12 years in human spaceflight (eight with Boeing), Ramos, a design engineer, is ensuring the first SLS core stage's readiness for each step of the Green Run test series at Stennis Space Center in Mississippi. Boeing provides the cryogenic core stages, upper stages and avionics for SLS, which will return humans to the moon as part of NASA's Artemis program.
Ramos coordinates across the program to ensure parts, documents and materials are staged at the test stand for Green Run operations and production work. She reviews test schedules and procedures, and develops and maintains test requirements and launch criteria.
While Ramos is based in Florida, she has spent the past couple of years on travel, including most of the past year at Stennis. Before that, she worked at NASA's Michoud Assembly Facility in New Orleans as a task lead engineer, supporting the installation and manufacturing of components in the core stage engine section and for final assembly. She'll be back at Kennedy Space Center in December, developing and maintaining requirements for launch and operations.
When she's not working, Ramos shares her knowledge of and excitement about human spaceflight with young people.
"People say, 'I wish I was doing what you're doing.' I say, 'You can,'" said Ramos, who volunteers at conventions, schools and trade shows as part of NASA's Speakers Bureau. "There is such a misconception that you have to be in a certain field or a certain type of person. I really believe it takes an array of different and very creative people to make aerospace happen. You don't have to be in engineering or math or physics. All types of people and lines of work are involved in human spaceflight."
For her outreach and community work, the Florida State University (FSU) graduate has been named a 2020 Notable Nole and a Reubin O'D. Askew Young Alumni Award recipient, which is the highest honor bestowed upon young alumni by the FSU Alumni Association. The alumni selected continue former Florida Gov. Askew's legacy of contributions to the state, nation and university.
"I tell them engineering really starts with creativity and imagination. If you can take the limited resources you have and build something out of it, that's really engineering."
Ramos has returned often to FSU to talk with undergraduates as a member of alpha Kappa Delta Phi, an Asian-American sorority, and with the FSU/Florida A&M College of Engineering Bridge to Industry Event. She also has represented Boeing in promoting the importance of the space industry to legislators. But she enjoys reaching young minds the most, speaking at local STEM events at elementary schools.
"I tell them engineering really starts with creativity and imagination. If you can take the limited resources you have and build something out of it, that's really engineering," Ramos said.
Her advocacy includes serving on Boeing committees for Florida Space Coast Operations, including as past president of the Boeing Asian Pacific American Association; a member of the Employee Engagement Team; and an advisor for REACH, which provides professional development and mentoring opportunities and volunteers in the Space Coast community.
Involved with the SLS program since 2012, she started as a quality engineer working with suppliers. She also supported SLS hardware through Critical Design Review and production, test readiness and acceptance reviews. On the production floor, she has provided design support for core stage systems by generating drawings, verifying requirements and troubleshooting issues.
She's more than ready to see the first SLS rocket integrated, raised on the pad and launched.
"I'm excited to prove that we have a vehicle that can go into deep space and to the moon," Ramos said. "It doesn't stop with just the rocket. We are going to fly missions. We are aiming for the moon and then we are going to aim for Mars. I can't wait."