How Jacob grew his career from mechanic to manager
Jacob Manaska's love of aviation fueled his journey from crew chief in the National Guard, supporting Blackhawk maintenance operations, to becoming a Boeing mechanic, supporting the iconic F-15 program.
Knowing he had the technical skills to succeed, he aspired to move into a management position.
"I'm very proud to support the products we build, especially the F-15," said Jacob. "With my experience, I knew I could lead a team through the technical aspects of the work, but I wanted to develop the communication skills to be a well-rounded leader."
After reaching his goal of becoming an F-15 operations manager, Jacob took our company's Leading in Manufacturing training. This immersive program, which is available at sites across the U.S., focuses on relationship building, communication, business mindset, and developing trust with others.
The course included real-world simulations to empower and equip new managers to lead and create an inclusive, honest and collaborative environment.
Jacob continued his management training with a series of courses aimed at building a safe and first-time quality culture. This included instruction on lean principles—a popular management practice aimed toward reducing waste to leave room for increased efficiences.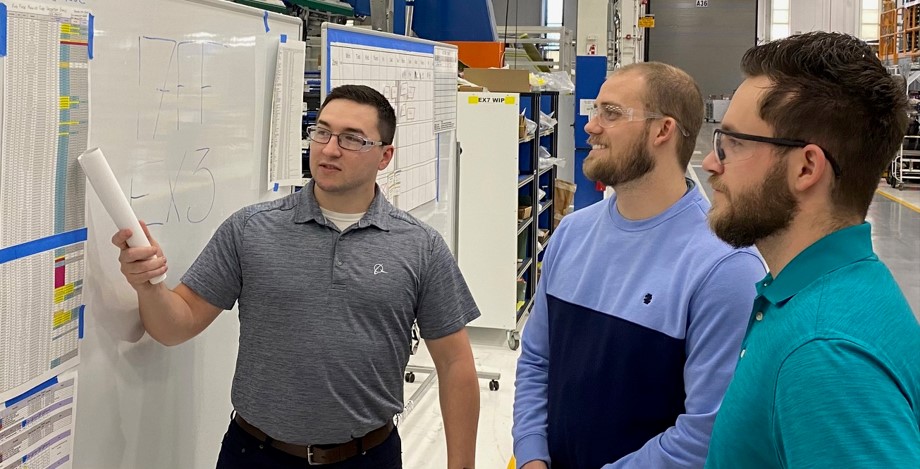 Since taking advantage of these development resources, Jacob has implemented an open-door policy with his team. He conducts check-ins with each team member to listen to concerns, ensures they have the resources to complete their work and provides constructive feedback.
"I've combined my experience assembling the aircraft with skills I've learned to develop and motivate teammates who work together to accomplish business objectives," said Jacob. "It's important that my team knows I'm here to listen to their ideas and collaborate."
Jacob encourages other employees to continue their learning journey.
"I'm always willing to share my story with others. Doing so has inspired teammates to move into management and take advantage of the educational opportunities available at the company," said Jacob. "It's my goal to build relationships and share what I can to help everyone succeed."
We Never Stop Learning
Developing our people is as important to us as delivering quality products and services to our customers. See more of the ways we invest in our employees' learning and development to help them have a great career.