An engineer's creative edge helps customers chart their course
The race is on.
Wind propels the sailboats forward. The sailors quickly advance, reaching their floating marks. As they inch toward the finish line — they also inch toward each other. The marks are too close together.
Kyle Weiskircher is calm. He analyzes the situation. If they turn right, they collide with another sailboat. If they turn left, they meet the same end. He needs to make a call.
"Let's hang back and float here for a second," he says to his partner. Stopping midrace is a bold move, but it works. While the other boats carefully navigate around one another, he waits for an opening. They soon catch up.
Moments that require creative, decisive thinking are where Kyle shines.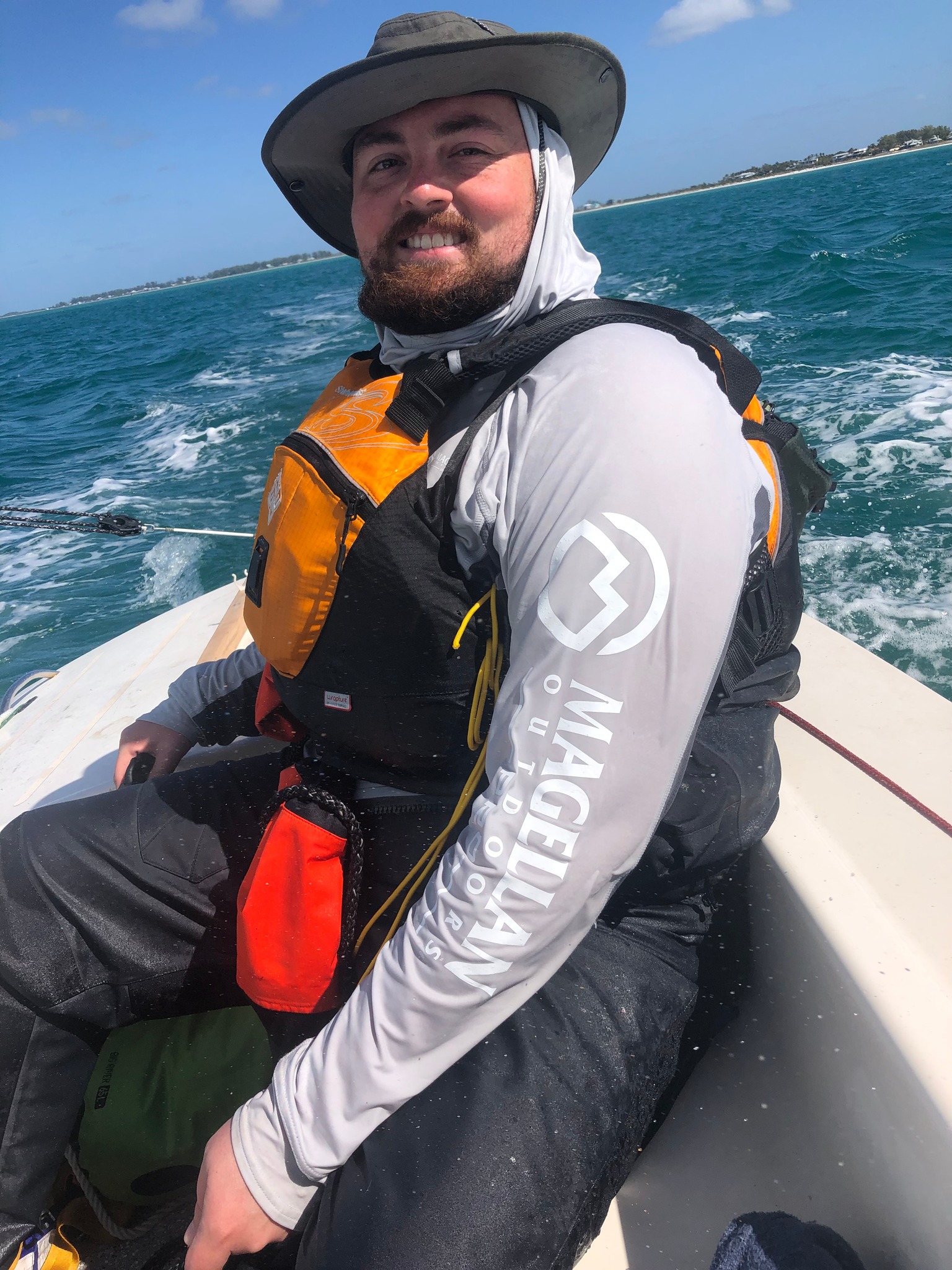 "What I've learned is that some decisions need further analysis, but others require quick pivots and immediate action," he said. "The art is knowing the difference."
He brings this strength, sharpened by hobbies like motorcycling, flying and competitive sailing, with him wherever he goes — including work.
A modeling and simulation engineer for Boeing Ground-based Midcourse Defense, or GMD, Kyle mostly deals in a world that's conceptual, using a modeling system to simulate and predict how a customer request will perform in a real-world scenario.
"I work in hypotheticals, so it's easy to suffer from analysis paralysis," he said. "Don't get me wrong, we analyze every detail, but at some point, you have to get creative, trust your analysis and move forward."
Forward momentum is central to who Kyle is. But despite his decisive nature, he struggled to choose a career path out of college.
"I was afraid of getting stuck. I feared signing my life away at a job that lacked creativity. When I got the offer at Boeing, I saw so many paths forward, I knew I would never get bored."
Creativity — and the ability to exercise it — played an important role in his decision.
"Not many people think of engineers as creatives. I get that," Kyle said, laughing. "But no matter how out-of-the-box the idea, it's often up to an engineer to explore if it's possible. I am always willing to believe it is."
Creativity in motion
In the summer of 2016, that mindset proved to be the right approach when Kyle, after recently completing his undergraduate studies, decided to push himself creatively.
He heard about a competition where student and non-student teams compete to design — and for some, build — a hyperloop pod that travels through a depressurized tube, ultimately achieving high-speed travel.
Never one to back down from a challenge, he decided to put a team together and compete.
"We threw around some wacky ideas. We could have stayed in the exploration phase forever, but eventually we used our knowledge to make a call."
They pitched their idea for a pod that uses a magnetic levitation system, allowing it to float above the track at all speeds, up to 300 mph (480 kph). This novel idea earned them a place in the next phase of the competition, building the prototype.
In front of local media and an excited crowd at University of Illinois, Kyle's alma mater, they demonstrated their hyperloop pod as it levitated above the track.
Though Kyle's time on the team ended before the competition's next phase, the experience reinforced his perspective that even the most out-of-the-box idea is worth pursuing.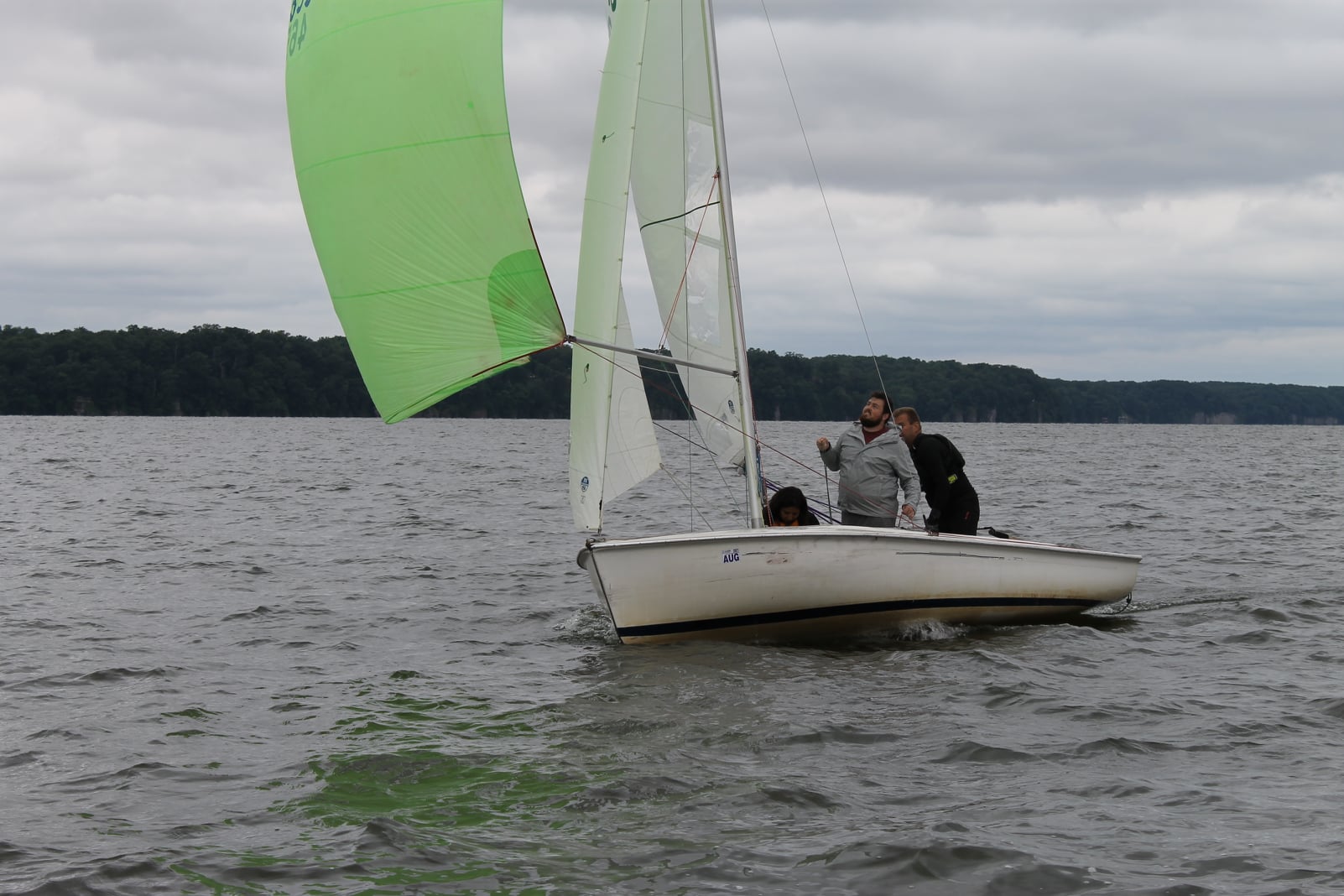 Honing his craft to meet customer needs
Today, Kyle uses this same approach in his daily work.
"When a customer request comes in, I still get to exercise that creative muscle by exploring what's possible and then making a recommendation based on that exploration," he said.
In just four years at Boeing, he has already worked on space launch systems, satellites and presentations for lawmakers.
"To be this young in my career and help decision-makers make decisions — that's more than I'd hoped for," he said.
In and outside of work, Kyle keeps moving forward. In March of 2022, he competed in another competition, sailing 341 miles (549 kilometers) in the span of seven days. Starting the journey with 91 other teams, only 31 made it to the finish. Kyle and his partner were among them.
Their first time competing in the grueling competition, they earned 12th place overall and third in their class.
"I will always push myself personally and professionally. Sailing, riding motorcycles, flying — it all helps me keep the creative edge that's critical to meeting and exceeding customer expectations."