'I don't just translate — I bridge gaps'
Hiroyuki "Dama" Hakamada followed in his father's footsteps to become an engineer and dreamed of working for Boeing. 22 years ago, he moved from his native country of Japan to join our team in Washington state.
In his new position as an on-site supplier engineer, Dama found himself navigating cultural, geographical and professional transitions. He pushed himself out of his comfort zone to initiate connections and speak up in meetings.
"Self-promotion is not something everyone is comfortable with, especially in Japanese culture," Dama said.
He took one step at a time – even just by asking questions as a way to share his ideas. Through those efforts he built relationships with his U.S. teammates and helped them work with our engineers in Japan.
"It was not just about translating between Japanese and English; I was bridging communication gaps," Dama said. "Knowing both languages, cultures and businesses, combined with my knowledge as a structural engineer, I was able to help my team."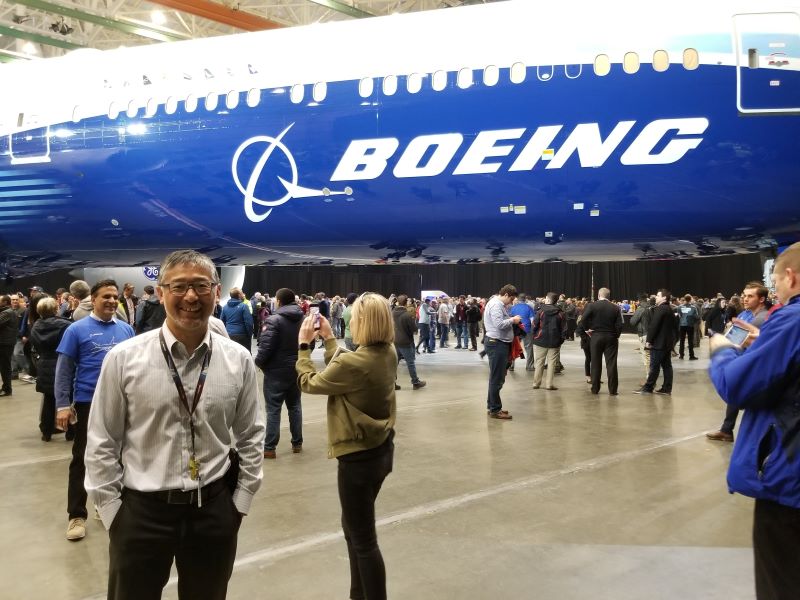 Dama supported product development on the 787 Dreamliner and other Boeing commercial airplanes, and his ability to serve as an integrator of both technology and people that helped him take on more responsibilities and advance his career. With a proven history of strengthening partnerships, Dama soon began collaborating with more engineering teams in India, Ukraine and the Netherlands.
In his current role as senior manager of Production Data and Analysis, Dama helps close the gaps between design, engineering and manufacturing teams to support the assessment and development of future aircraft production systems.
The insights his team gathers through interviews with assembly mechanics help inform decisions for new technology solutions and materials that will improve quality, safety and production.
As a member of the Boeing Asian and Pacific Association (BAPA) Business Resource Group, Dama mentors teammates who are starting their careers and navigating some of the same questions and uncertainties he did 20 years ago.
He says being part of the BAPA community provides him with meaningful ways to share his experiences and inspire others to advance their careers.
"I remember standing in the Boeing parking lot, feeling nervous about my first day. And I never imagined how far I'd go from there," Dama said. "But if my story can help others understand the value that their diverse skills and perspectives bring to the table, that's important to me."

Learn more about our efforts toward global equity, diversity and inclusion.