'Helping people reach their potential inspires me'
Wilton Givens began his Boeing career five years ago as a fabrication technician in his hometown of New Orleans, Louisiana. Today he serves as quality manager for the Space Launch System (SLS) program supporting Artemis missions, which will land the first woman and first person of color on the moon.
"Supporting missions like Artemis and products that fuel space exploration is beyond anything I thought I would have the chance to do," said Wilton.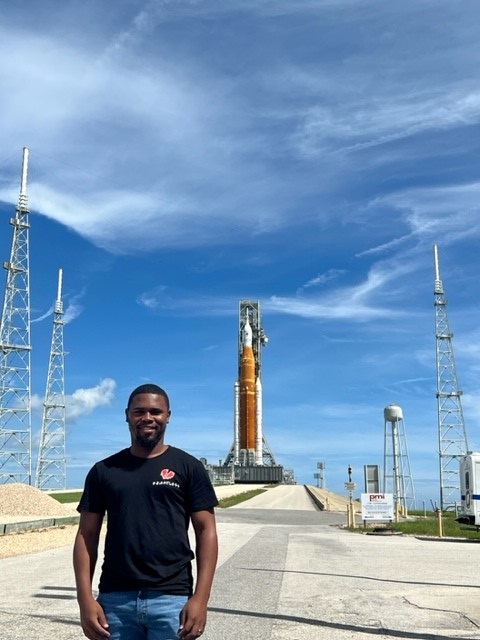 In his role as quality manager, Wilton oversees inspectors who ensure the Boeing-built rocket meets the highest quality standards. This includes responsibility for evaluating production and working with engineering and manufacturing teams to find solutions.
Always looking for ways to improve, Wilton created a development playbook for his team. It includes guidance on mentorship, resume writing, and communication.
Wilton uses the playbook to improve collaboration and to help his team members feel more confident sharing their ideas.
"I wanted to create a resource that would help teammates build their interpersonal skills...now and throughout their career," Wilton said.
As a result of these efforts, Wilton has noticed formerly reserved employees beginning to speak up. "Conversations during meetings and projects are stronger due to more input from the group, which has enabled us to address issues," he said.
Wilton is also active in his local Boeing Black Employees Association (BBEA) Business Resource Group and our company-sponsored community engagements. Through Boeing, he supports STEM Nola, a nonprofit community organization committed to encouraging the next generation of science, technology, engineering and mathematics students in the New Orleans area.
"There are many opportunities available at Boeing for everyone," Wilton said. "Helping people reach their potential inspires me."