From Interns to Innovators: Systems Engineers Blaze Paths to Success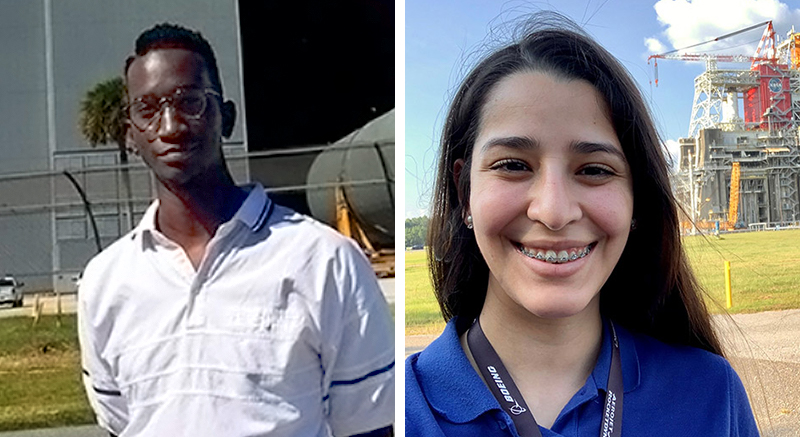 Brandon Burroughs is an Alabama-born Tuskegee University graduate and Head Drum Major emeritus who loves science fiction and is pursuing his master's degree at the Florida Institute of Technology.
Nathalie Quintero came to the United States from Venezuela, as a dual citizen, to earn a bachelor's degree from Embry-Riddle Aeronautical University and a master's from Cornell University while working full-time. She enjoys performing flamenco dance.
Both are early-career Boeing systems engineers. And both are working across teams and enterprises to ensure NASA's Space Launch System, or SLS, deep-space rocket will take humanity back to the moon and beyond.
"It takes multidisciplinary teams to build, test and launch the world's most powerful rocket, so collaboration and communication are keys to success," said Quintero. "We're all working toward the same goal."
"With SLS, we're integrating some proven hardware and processes with new software and technology, so there are lessons learned we can gain from more experienced employees," said Burroughs. "But in a development program we're all doing many things for the first time, so early-career employees also can have their ideas heard and contribute to this next era of spaceflight."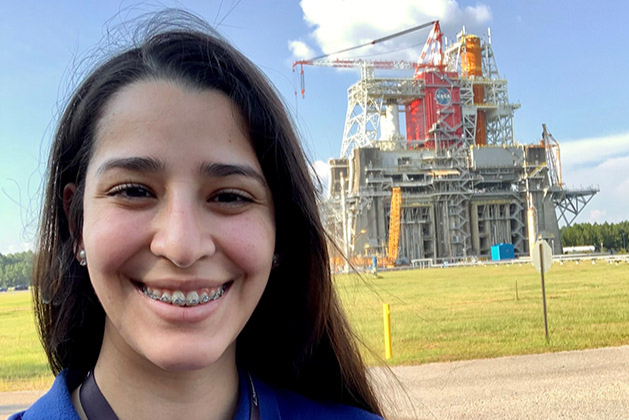 Quintero and Burroughs' relationship-building, as much as their technical skills, has helped them reach a level of performance that was recognized November 19, 2020. They each received Trailblazer Awards from the NASA-managed Space Flight Awareness, or SFA, recognition program.
At a virtual ceremony, Quintero, Burroughs, and recipients from NASA and from other major NASA contractors were thanked for their achievements by speakers including NASA Kennedy Space Center Director Bob Cabana and astronaut Drew Morgan.
Burroughs received his third SFA award for the engineering support he has provided to all phases of the SLS program – from manufacturing operations at Michoud Assembly Facility in Louisiana, to production preparation for the Green Run SLS core stage test series at Stennis Space Center in Mississippi, to systems engineering for the Field Operations team at Kennedy. He works directly with Boeing touch-labor technicians, develops and ensures adherence to process documentation, and exchanges technical information with NASA teams. All that collaboration will help ensure successful integration of the Boeing-built SLS core stage with the rest of the rocket at Kennedy after testing is complete.
Quintero was recognized for her development and implementation of new procedures for work authorization document reviews, as she integrated the Boeing Design Center with Kennedy operations personnel. She directs the technical review of SLS ground operations procedures, coordinating Boeing's feedback with NASA personnel. She also serves as the Boeing Launch Operations team focal for the Integrated Test Checkouts at Kennedy, and recently completed her Green Run Electrical Power System console certification as part of the Green Run Avionics Test Team.
"Working with NASA to build the next generation of human space exploration capabilities is an incredible opportunity to watch a new generation of talent take the baton and run hard to the finish line," said John Shannon, Space Launch System vice president and program manager for Boeing. "Nathalie and Brandon exemplify this program's unwavering commitment to mission safety and success."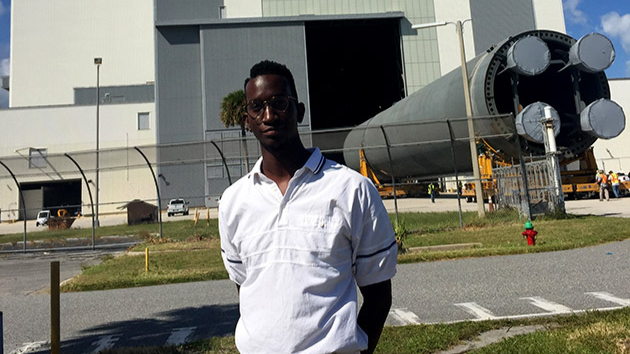 Both engineers started at Boeing as interns – Burroughs with SLS and Quintero with two stints at Commercial Airplanes before SLS. And despite their challenging schedules, they are active with early-career and other Boeing diversity groups, engineering societies and community outreach.
"Boeing has provided me with opportunities to be involved and engaged since I was an intern, and in return I try to bring new perspectives, the incorporation of new technologies, and adaptability," said Quintero. "Over the past six years, I've found mentors who have helped shape my career and supported me as I completed my master's in systems engineering, which made me more versatile and valuable to the team."
"One of the biggest things Boeing and my leadership have done for my development is to encourage me to do industry-related outreach," said Burroughs. "I've participated in Florida Space Day, University Recruiting, and an AIAA [American Institute of Aeronautics and Astronautics] SciTech Idea Challenge team pitching competition."
"Those experiences have given me a better understanding of how my work relates to the entire space industry," Burroughs added. "Plus, they help refine my skills: after speaking in front of so many different audiences, presenting at work is a piece of cake."