'What are your qualifications?'
Danielle Crocker, pictured right, is a senior test manager for the Starliner program. Ankita Sharma, pictured left, is an Engineering Career Foundation Program participant. Discover how they are breaking biases and barriers to make valuable contributions to our company and their communities.

As a college student studying electrical engineering, Danielle Crocker was one of 11 women out of 400 students at graduation. Years later, as the senior test manager for Starliner, Crocker says the gender gap in STEM fields is still apparent.
She believes focused gender equity efforts are needed to drive innovation and excellence in aerospace and continue to see meaningful progress.
"I remember in one class, I was the only woman," said Danielle. "On the first day, the professor was lecturing, but stopped when he spotted me. He looked directly at me and said, 'Honey, this is advanced electromagnetics; are you sure you're in the right classroom?'"
For Danielle and many women, bias can take the form of macroaggressions—obvious and intentional insults—and microaggressions—subtle insults that may be intentional or unintentional. When she was new to management, Danielle found that some male colleagues would talk over her in meetings, even after asking her direct questions. Eventually, she stopped saying anything, which lasted nearly six months and almost ended her career, until she expressed her concerns to a male colleague.
Danielle recalls finding an ally who was willing to speak up, opening the door for her and her peers to have tough conversations about becoming more inclusive of different perspectives.
"After sharing my experience with my colleague, he brought it up to the group at the next meeting," recalled Danielle. "What surprised me was that the others in the room didn't even realize it had been happening. The impression was that I had been talking in all of those meetings, even though I was silent."
Danielle now encourages her teammates to serve as allies and cultivate their own – both women and men alike.
"It doesn't necessarily have to be somebody else in the room or a person in power, but find an ally who can help you talk through it," she encourages. "We—that is everybody, not just women—need to speak up and out when we see something wrong. That's the only way we make it better for women now and how we make it better for each generation of women after us."
Like Danielle, Ankita Sharma, an Engineering Career Foundation Program participant and woman of color, has addressed bias with the support of an ally.
"One time, I was working in flight test and was in a pre-flight briefing. The pilot suddenly turned to me and asked, 'what are your qualifications?'" said Ankita. "I wasn't even presenting or talking at the time; I didn't even process it as a microaggression at first."
Ankita said she was taken aback by the question and did not know how to immediately respond.

"Fortunately, I had a male ally in the room who told the pilot that I had 'earned my wings at Clinton-Sherman' Air Force Base in remote testing," said Ankita. "He diffused the situation with a bit of humor, too. Thanks to that ally, we were able to move on in the meeting."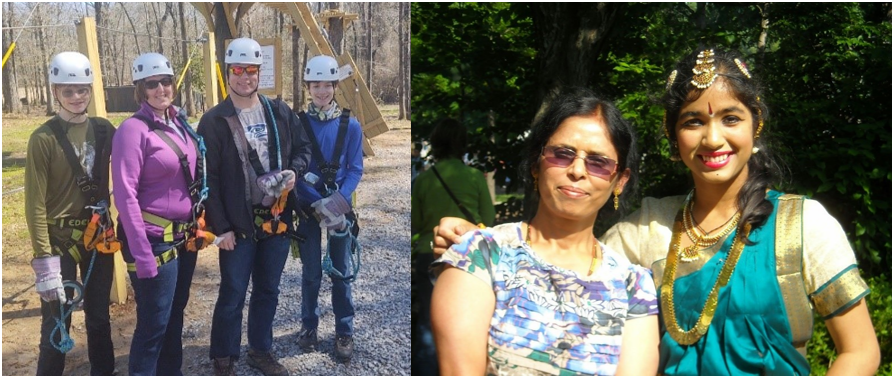 Over time, Ankita has built a network of allies at work that include women and a few men who demonstrate support when bias occurs. Allyship is really about demonstrating respect and care, and the courage to speak up for what's right.
"It's important to have a psychologically safe space to speak up and listen to one another with understanding. Fortitude and will of strength aren't enough to work through bias; solidarity and support are so important."
Ankita says one of the things she is most proud of in her career is participating in an all-women flight test crew for the 737-10.
"When we see other people like ourselves, we feel more comfortable speaking up and bringing valuable perspectives to the table, especially in high-risk environments like flight test."
Despite the bias she's faced, Ankita remains optimistic about gender equity. "My hope is to see gender equity in a global context," she says. "We need to keep talking about it through a global, intersectional lens to liberate women as a whole."

Increasing representation
In the last 4 years, Boeing has seen a 200% increase in the number of women who hold Engineering and Information Technology & Data Analytics vice president positions. This growth is largely due to a gender equity strategy that is focused on transparency, intentional allyship and more inclusive teams.
Learn more in our 2021 Global Equity, Diversity and Inclusion Report.