SOFTWARE ENGINEERING
Overview
Welcome to life as a software engineer at Boeing. Your code will power products that defy gravity, fly faster than the speed of sound and transport billions of people each year. Your ideas will power the on-board real-time embedded software in the avionics systems on aircraft, helicopters and satellites. You'll also take part in building large-scale flight or virtual simulations and work on challenging software research and development projects. We value your curiosity, tenacity and imagination. Your future is built here.
Software Everywhere
Behind our space and launch systems, commercial aircraft and defense platforms, you'll find code from software engineers like you. Yes, the work is challenging. Yes, our teams are engaged and excited. And yes, the project pipeline is full. When you join Boeing, you'll work on projects that break the speed of sound and broadcast HD programming to millions of viewers. You'll power virtual reality tools that combine computer systems, simulations and analytic tools, as well as create synthetic test environments so realistic that complex aircraft systems can be tested and refined in a virtual space.
It's About Variety
We employ more than 5,000 software engineers. Join us, and every day your skills will be put to the test on projects that range from Advanced Networking and Cybersecurity to Data Analytics and Modeling & Simulation. We've also earned more than 1,500 active software-related patents.
Build, Grow and Develop
To help you keep your skills far above the cutting edge, we offer a generous tuition assistance program. In fact, there's no annual limit for eligible STEM degree and certificate courses. Also, we offer unlimited access to online digital learning and skill-building courses, a good work/life balance and excellent compensation. If you want to build, grow and develop, choose Boeing. We mean it when we say your future is built here.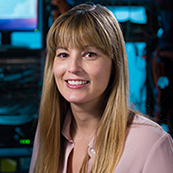 "With so many people working for Boeing around the world, we get a lot of unique insights. Everyone has a different perspective, but with today's technology, we regularly talk with people thousands of miles away and easily leverage this. And when a simple voice or video chat isn't enough, we'll travel between the various Boeing sites, which I thoroughly enjoy."

Carrie Spiker

Software Engineer

Huntington Beach, California