'I'm inspired by the belief that we can always improve'
Dr. Rongsheng "Ken" Li is a Principal Senior Technical Fellow based in Huntington Beach, California, who has been awarded for his work in the development of aerospace guidance, navigation and control systems. His story is part of a series celebrating Asian American and Pacific Islander Heritage Month that shares perspectives from employees across the enterprise who are making a difference at Boeing through their leadership and commitment to an inclusive workplace culture.

"At Boeing we are constantly innovating," Dr. Rongsheng "Ken" Li said. "I'm inspired by the belief that we can always improve. As a leader I strive to and encourage others to create new ideas and better solutions for our customers that will also help move the company forward."
Ken currently supports Boeing Research & Technology (BR&T) in developing next generation Positioning, Navigation and Timing (PNT) solutions across the enterprise. This includes applications for spacecraft, aircraft, surface vehicles, underwater vehicles, and more.
Ken has always been a high achiever. After attending college in his early teens, he received a full scholarship to pursue his doctorate in the U.S. Ken was recently appointed to be a Principal Senior Technical Fellow at Boeing.
The Boeing Technical Fellowship program is a highly selective leadership program that promotes technical excellence and innovation, which are critical to Boeing's success.
As part of Boeing's Technical Fellowship, Ken leads a global team of subject matter experts that help ensure technical excellence across the enterprise in technologies, processes and products.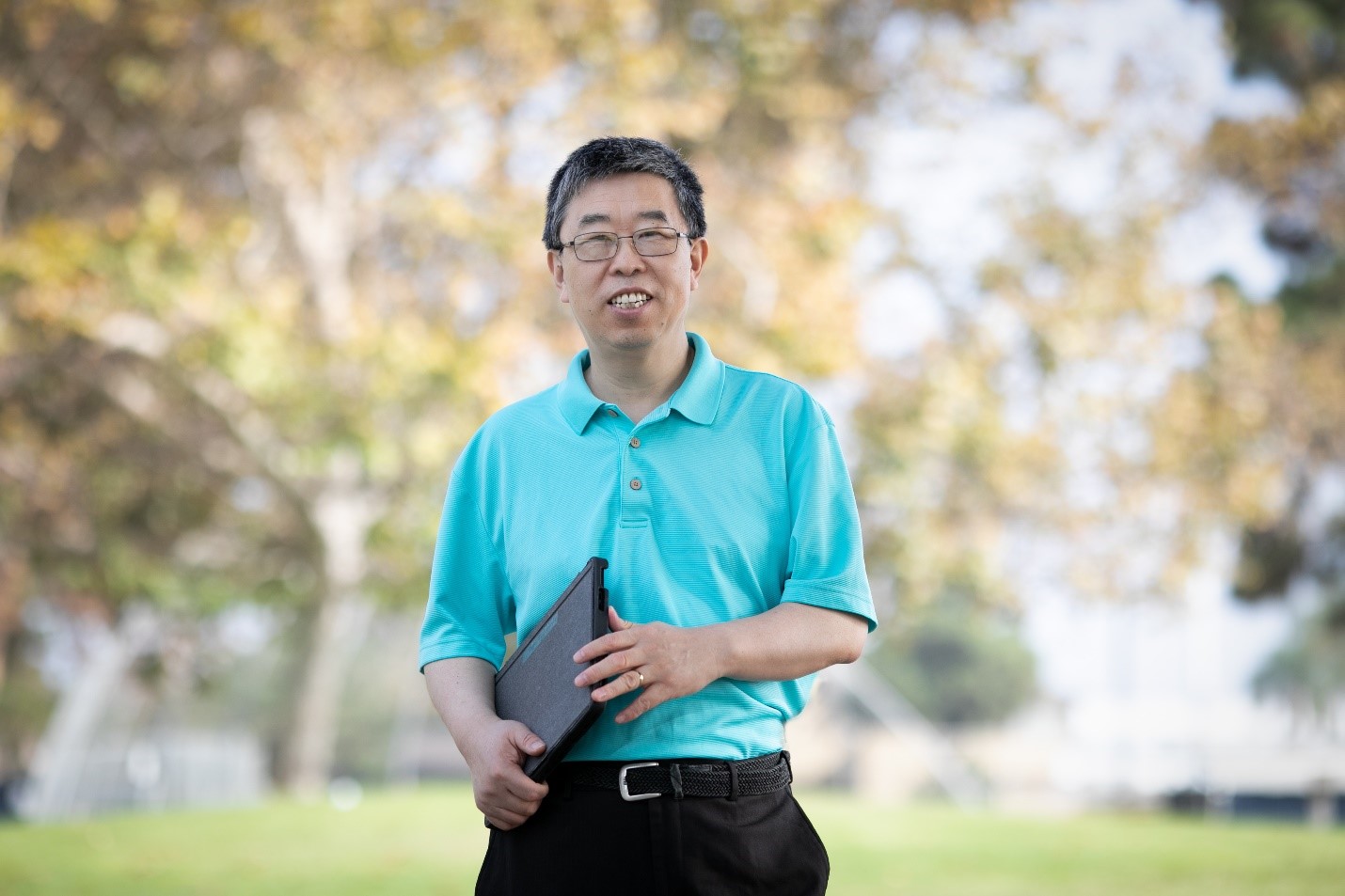 Ken's dedication to exploring and creating new technologies developed at a young age. His career interests were propelled by an accelerated path through grade school – he began attending China's Northwestern Polytechnic University when he was 15 and was part of the first generation of university students in China after the Cultural Revolution ended, restoring the country's higher education system.
"I became interested in math and physics at an early age," he said. "My family and community emphasized the importance of education and hard work, which set the tone for me as a student and throughout my career."
Ken relocated to the United States to attend the University of Southern California, where he received a full scholarship and a Ph.D. in Electrical Engineering.
He would later join Boeing and work in various organizations including Boeing Network & Space Systems as a key developer of Stellar Inertial Attitude Determination & Control Systems for space assets and spacecraft product lines. His designs are used by more than 30 spacecraft programs.
For his contributions to the engineering field, Ken was awarded the prestigious Asian American Engineer of the Year Award at the Asian American Engineer of the Year Awards and Conference in 2016.
"Employees of Asian descent have been instrumental in the company becoming a leader in aviation dating back to the 1900s," Ken said. "I'm continuing on the path that was pioneered by trailblazers like Wong Tsoo, Boeing's first aeronautical engineer."
Born in Beijing, Tsoo helped design a two-seat biplane known as the Model C, which took flight on Nov. 15, 1916, making him a part of aviation history. The Navy would later purchase 50 Model Cs – Boeing's first production order.
"Wong Tsoo's innovations and leadership have made a lasting impact on the aerospace industry," Ken said.
"Breaking this stereotype is imperative to our success."
Ken acknowledges that despite meaningful contributions from Asian leaders like Tsoo throughout history, Asian Americans still face limitations and even discrimination in the workforce, especially when it comes to reaching upper level management positions. As an executive leader of Asian descent, Ken is conscious of the "Bamboo Ceiling" – a concept that refers to the combination of individual, cultural, and organizational factors that impede Asian Americans' career progress inside organizations.
"A stereotypical impression of Asian American engineers is that we are good workers but not good leaders," Ken said. "Breaking this stereotype is imperative to our success. Having a diverse workforce and management team helps foster a global environment of innovation and creativity, which enables the company to better support a variety of customers."
Ken is personally committed to mentoring emerging leaders, including those of Asian descent. He teaches technical courses within the company and in the community, helping students as they progress in their STEM educations and careers.
"I enjoy collaborating with the younger professionals and I appreciate that Boeing is similarly committed to amplifying diverse perspectives." Ken said. "A common understanding across all backgrounds, and having a mutual respect for our shared experiences, will help to close representation gaps and achieve parity in retention rates."
Ken added, "As an employee, I'm reassured by Boeing's commitment to hiring diverse talent from its inception, and how the company continues to hold itself accountable for setting goals that will lead us to a brighter, more inclusive future."
Boeing's 2022 Global Equity, Diversity & Inclusion Report shows that compared to last year's report, women and racial/ethnic minority representation within the company's U.S. workforce has increased overall. Strengthening diverse representation at every career level continues to be a priority at Boeing that all teammates are encouraged to support.