We Never Stop Learning
Most of our senior leaders were promoted from within our workforce. Developing our people is as important to us as delivering quality products and services to our customers. Whether it's taking on a new assignment or volunteering our skills in communities around the world, we never stop learning.
Boeing Leadership Center

Our leaders have a unique opportunity to broaden and deepen their leadership capabilities at our center of excellence.
Each year, thousands of current and future leaders from across our company travel to the Boeing Leadership Center from around the world so they can guide our company into our second century. Our senior leaders are the teachers: they describe challenges, discuss best practices and share experiences — they are leaders teaching leaders.
Learning Together Program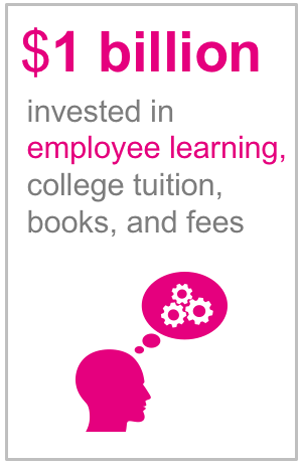 We have invested more than $1 billion in our employees' college tuition, books and fees through our industry-leading tuition assistance program — the Learning Together Program. Full-time and part-time team members have the opportunity to participate, regardless of what stage they are at in their career, after just one year of company service. Our people can pursue degree programs, professional certificates and individual courses in strategic fields of study at more than 270 quality colleges and universities. We encourage our people to explore new roles within the company throughout their careers, and course work does not have to be related to your current job, so you can go wherever your career path takes you.