BOEING IN SOUTHERN CALIFORNIA
When you join us in Southern California, you'll develop intelligence, government and commercial satellite systems, as well as a number of strategic defense and space research and development projects. You'll help provide end-to-end solutions in large-scale systems integration; intelligence, surveillance and reconnaissance systems; and navigation and communication systems.
Your skills and passion for innovation will be critical as we transform aerospace as we know it. To work on projects of this magnitude, you'll need an active U.S. security clearance as well as a background in engineering, software or technology. Relocation is available for most roles.
Working alongside other top minds, you'll enjoy a 9/80 workweek that gives you every other Friday off. Join us, a company Forbes called one of the best aerospace and defense employers in California, and you can help us conceptualize, design and build our next generation of spacecraft.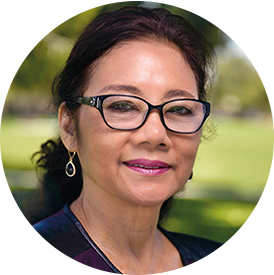 "I get to help resolve critical technical issues for spacecraft, aircraft and ground hardware across the company. I have been able to work on so many amazing projects and proposals — it gives me goose bumps just to think about them."

Carol Nguyen

Senior Technical Fellow

Contamination Control