Take Your Seat at the Table
Aurelina 'Lina' Prado is a Supply Chain senior manager based in San Antonio. Her story is part of a series about women who are breaking biases and barriers to make valuable contributions to their communities and at Boeing.

Aurelina 'Lina' Prado's daily mantra, "Sky is not the limit, only the beginning," stems from her love of aviation as much as it does in her belief of not being afraid to fail forward, and reach for the stars when it comes to your goals. Lina, who identifies as Afro-Latina and was born in the Dominican Republic, spends most of her time on the factory floor, and is committed to fostering an environment where everyone respects and cares for each other.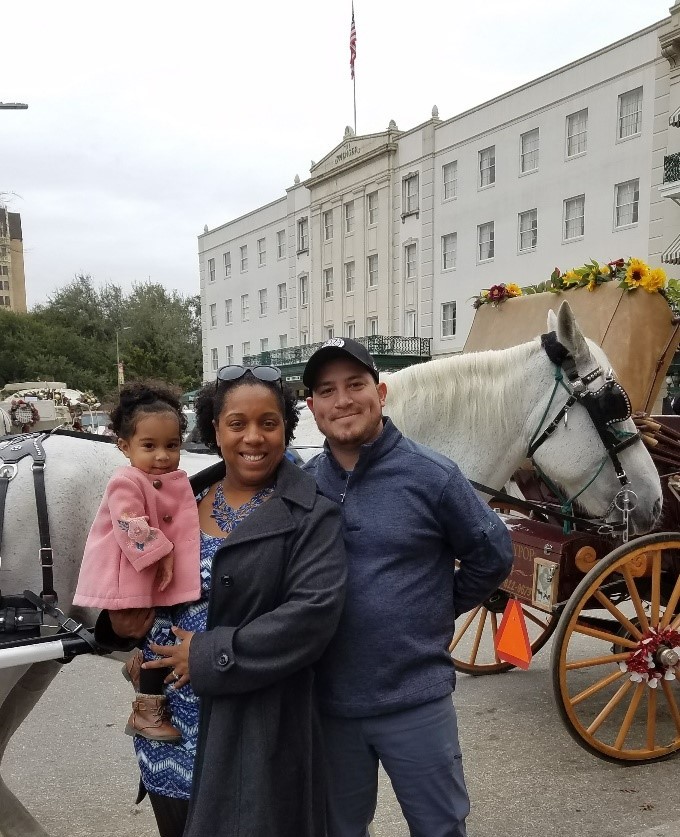 According to the 2021 Women in the Workplace Study, compared with other employees, Black women feel more excluded at work and are less likely to say they can bring their whole selves to the workplace. Additionally, they are less likely than women of other races and ethnicities to say their manager advocates for new opportunities for them.
Lina is working to change these kinds of disheartening experiences by promoting the creation of inclusive spaces for diverse leadership and inviting aspiring leaders of all races and genders to have an active voice on their teams.
Lina recalled that at one point in her career, the way she wore her natural hair led to unsolicited comments from colleagues that made her feel self-conscious. Now, she uses this aspect of her identity to help create a more inclusive environment for other women of color.
"A new team member, another woman of color, noticed me wearing my hair in its natural texture and she shared that it made her feel welcome and comfortable to wear her hair in its natural texture too," Lina said. "As a Boeing leader and a woman of color, I want everyone on my team to feel comfortable in their own skin."
Showing up and being present has made all the difference when it comes to Lina's personal career development.
"Take your seat at the table and drive the conversation," she said when giving advice to early career employees. "Having the opportunity to listen to and join in on certain conversations helps you to become more strategic in your thinking and influences your perspective."
"It's OK to step out in faith and take challenges."
Lina started at Boeing as an aircraft mechanic noting that she has no fear of "getting dirty," and continued to raise her hand for new opportunities that would give her challenging work assignments and build her skillset.
One of Lina's favorite accomplishments has been co-founding a local chapter of Women in Aviation in San Antonio, TX while completing graduate school. The chapter introduces girls to careers in aviation and advocates for more communities where it is socially acceptable for girls to be smart and ambitious.
"I want other women on our teams to know that it's OK to step out in faith and take challenges in terms of the roles they assume at work, and in their personal lives," she said. "You can truly be anything you want to be, we have the power to break the bias."
Learn more about how Lina is making an impact in her San Antonio community in this San Antonio Hispanic Chamber of Commerce VOICES podcast interview. It explores the amazing story of Lina's experience immigrating with her family from the Dominican Republic, and how she was able to rise up as a Latina leader against all odds and find her career at Boeing.