Great acoustics: Passion for music helps compose a career
Whether tuning a guitar, testing vibration impacts on airplanes, or listening for people's pronouns, Indica Bennett knows that sounds matter.
Indica, who uses the pronouns he/they, has created personal and professional harmony while working at Boeing, where they can be their authentic self and turn their love of music into a rewarding career.
The guitar player, drummer and producer enjoys music genres ranging from indie folk to punk rock. Indica joined our company several years ago as an F/A-18 manufacturing engineer and soon found a way to combine their skills.
"I wanted to better understand how we perceive sounds," Indica said. "Acoustics engineering was a way I could further my hobby and my career."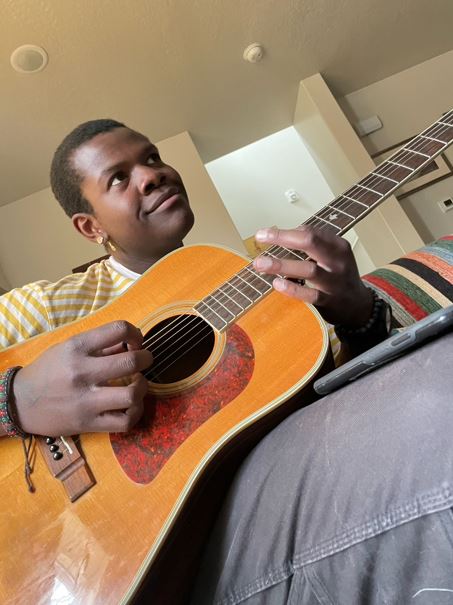 Indica found a graduate program in acoustics offered by Penn State University's College of Engineering. Having previously used our industry-leading tuition assistance benefit, the Learning Together Program, to pursue professional certifications, Indica turned once more to our program to enroll and cover the cost of their online courses.
"When I was younger, I didn't do well in school and never thought I'd be at the point I'm at now," Indica said. "I'm really proud…and grateful."
Indica's dedication to continuous learning and listening not only benefits their work and leisure activities, these traits also contribute to how Indica fosters inclusivity in their communities.
When Indica started with us, they included pronouns in their email signature and a few teammates asked them how to properly use gender-neutral terms. Indica, an active member of our Boeing Employees Pride Alliance Business Resource Group, used the opportunities to share information and resources about the LGBTQIA+ community that could help others initiate and navigate conversations in the workplace and with family and friends.
Indica's career goals and interest to help build a more inclusive culture are both encouraged by their mentor, Eric Olson, chief engineer and vice president of Boeing Maritime and Weapons Systems.
"People are most successful when they do what they love," said Eric, who met Indica when they both volunteered for Harris-Stowe State University's STEM Workforce Preparedness Institute. "I am in awe of Indica's determination to create the career path that they want. Their journey can inspire others."
Indica's dream job is becoming a reality as they join our Commercial Airplanes' Vibrations team as an acoustics engineer. The Everett, Washington-based team helps to improve flight operations and safety by testing how vibrations affect the durability and life span of airplane parts and materials.
"I'm excited to explore a new area and pursue my passions," Indica said. "It's a really cool job."

Learn more about our efforts to advance global equity, diversity and inclusion.