Q&A: Career Advice from the KC-46 Chief Mechanic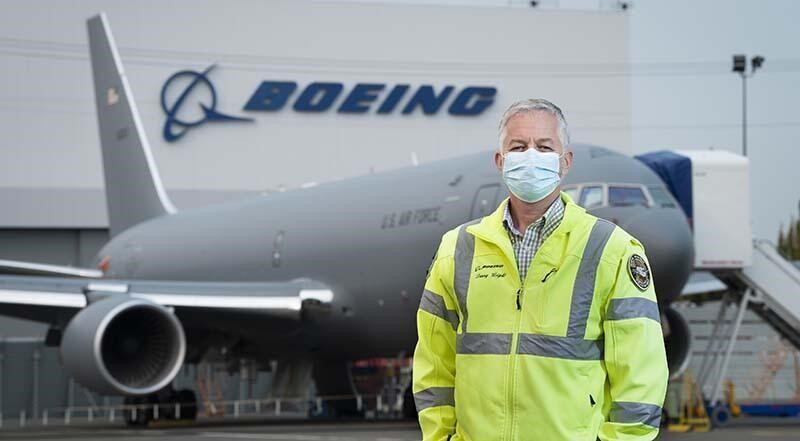 KC-46 Chief Mechanic Danny Wright, in front of a KC-46 Pegasus at the Military Delivery Center in Tukwila, Washington. (Marian Lockhart photo)

KC-46 Chief Mechanic Danny Wright is always thinking ahead.
During the design, development and test phases of the KC-46 tanker program, Wright was involved with every aircraft change brought to the program change boards. He knew the decisions he made would impact the tens of thousands of future tanker mechanics who would work on the aircraft over its lifetime.
His focus on aircraft maintainability — on examining design changes through that lens — was noticed by the customer. In 2015, the U.S. Air Force applauded the tanker's "door within a door" that allows maintainers to access and service the KC-46 auxiliary power unit without having to lower the aerial refueling boom. The improvement saves four hours per action and reduces unnecessary systems wear. This is just one of the 253 changes Wright influenced on the program.
His achievements in maintainability on the KC-46 Pegasus recently earned Wright the 2020 Turnbuckle Award by the Royal Aeronautical Society. In the following Q&A, Wright shares lessons and tips he has gleaned throughout his 40-plus years in aerospace.
What one or two moments have defined your career?
Many times throughout my career, I've stopped to think, how did I get here? Now I know my destination is a result of hard work, perseverance and the many, many leaders before me, some who knew I was ready for the next challenge before I even knew I was ready. A major event that changed the trajectory of my career was becoming a field training instructor in the U.S. Air Force. This is where I built the foundation of my aircraft knowledge and learned and put into practice the ability to convey complex information to a broad range of people. The second standout moment was when I was named the KC-46 Pegasus tanker program chief mechanic in 2011. The role was a perfect fit, a culmination of everything I was working toward. It was like all my years in aviation were preparing me for this moment. Additionally, as an Air Force veteran, it is an absolute honor to play a role in bringing the tanker to the warfighter.
What challenges have you overcome and how did it make you a stronger leader?
Working in the aviation industry — both commercial and military — has its challenges. For one, the industry ebbs and flows, and like many of my colleagues, my family and I have been through these ups and downs. However, these experiences made me realize not all change is bad. If I didn't say yes to a move or didn't say yes to a night shift, I might not be in the position I am today. I look back on all those challenges and know they were all stepping stones on my path to leadership. Now, I have the ability to make an impact, not only on the design and maintainability of aircraft, but on the community of maintainers.
What is something you wish someone told you during your career?
This one is simple and can be answered in one word: education. I wish someone had told me early in my career to invest in my education and in the credentials that would have helped secure positions that fit my abilities and interests. Doing this could have accelerated my career and increased my probability of influencing the design on more platforms, and consequently helped create better products across the enterprise.
How have you passed on lessons learned to help the leaders of tomorrow?
I am part of an awesome community, a community that is always driving for better solutions. The maintainers I interact with are eager to learn and will adapt my experiences and thought process to enhance their designs. I mentor some maintainers who want to advance their understanding of how the customers use the products we build. I am also very lucky to spend time in the field with Air Force maintainers. I once stood in their shoes and it has been a privilege to advise them on what the aviation industry can offer following their military careers.