Meet 5 Engineers Who Are Helping Build NASA's Space Launch System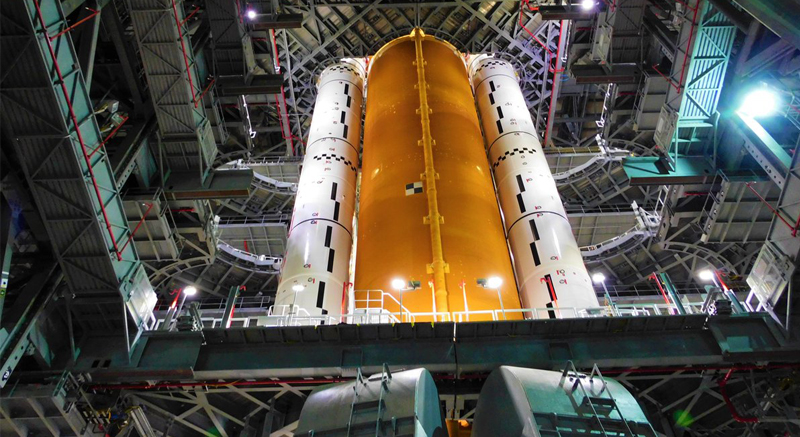 As the prime contractor for the design, development, test and production of the launch vehicle core stage and upper stages, as well as development of the flight avionics suite of NASA's Space Launch System (SLS), Team Boeing is playing a key role in the historic landing of the first woman and first person of color on the moon, as well as the sustainable exploration of deep space.
Building the SLS is hard work and takes collaboration with hundreds of teammates and dozens of industry partners. Read what five engineers have to say about what it's like to help build the backbone and brains of America's deep-space rocket.
Mark Nappi, SLS Final Integration Team Leader
Mark Nappi is the director of the Core Stage Integrated Product Team that is working final integration of the Boeing-built core and upper stages for the first SLS at NASA's Kennedy Space Center. Mark's 35 years in human spaceflight includes experience as an engineer supporting and making complex decisions for more than 100 space shuttle launches.
"Knowing you are contributing to knowledge that will go on forever is amazing," Mark said. "We are pushing the envelope of exploration and technology. There are going to be remarkable technical and scientific discoveries as we learn how to live on another planet that will benefit everyday life on Earth."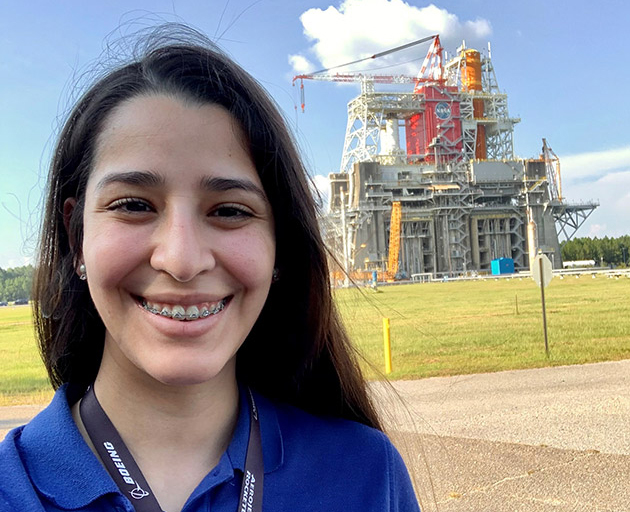 Nathalie Quintero, Systems Engineer
Nathalie Quintero came to the United States from Venezuela, as a dual citizen, and directs the technical review of SLS ground operations procedures, coordinating Boeing's feedback with NASA personnel. She also serves as the Boeing Launch Operations Test Integrator for the Integrated Test Checkouts at Kennedy Space Center, and recently completed her Green Run Electrical Power System console certification as part of the Green Run Avionics Test Team.
"Boeing has provided me with opportunities to be involved and engaged since I was an intern, and in return I try to bring new perspectives, the incorporation of new technologies, and adaptability," Nathalie said. "Over the past six years, I've found mentors who have helped shape my career and supported me as I completed my master's in systems engineering, which made me more versatile and valuable to the team."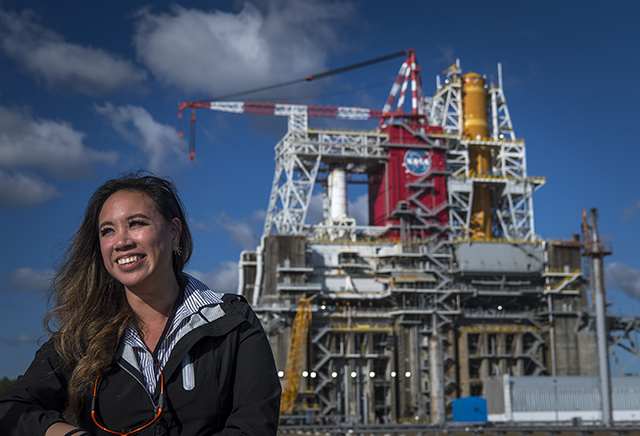 Kristine Ramos, Design Engineer
After 12 years in human spaceflight (eight with Boeing), design engineer Kristine Ramos works in Global Sales & Marketing to structure Boeing capabilities to meet NASA's vision for human deep-space exploration. In the last five years, she's worked design, production and test for SLS at Kennedy Space Center in Florida, Stennis Space Center in Mississippi and the Michoud Assembly Facility in New Orleans.
"People say, 'I wish I was doing what you're doing.' I say, 'You can,'" Kristine said. "There is such a misconception that you have to be in a certain field or a certain type of person. I really believe it takes an array of different and very creative people to make aerospace happen. You don't have to be in engineering or math or physics. All types of people and lines of work are involved in human spaceflight."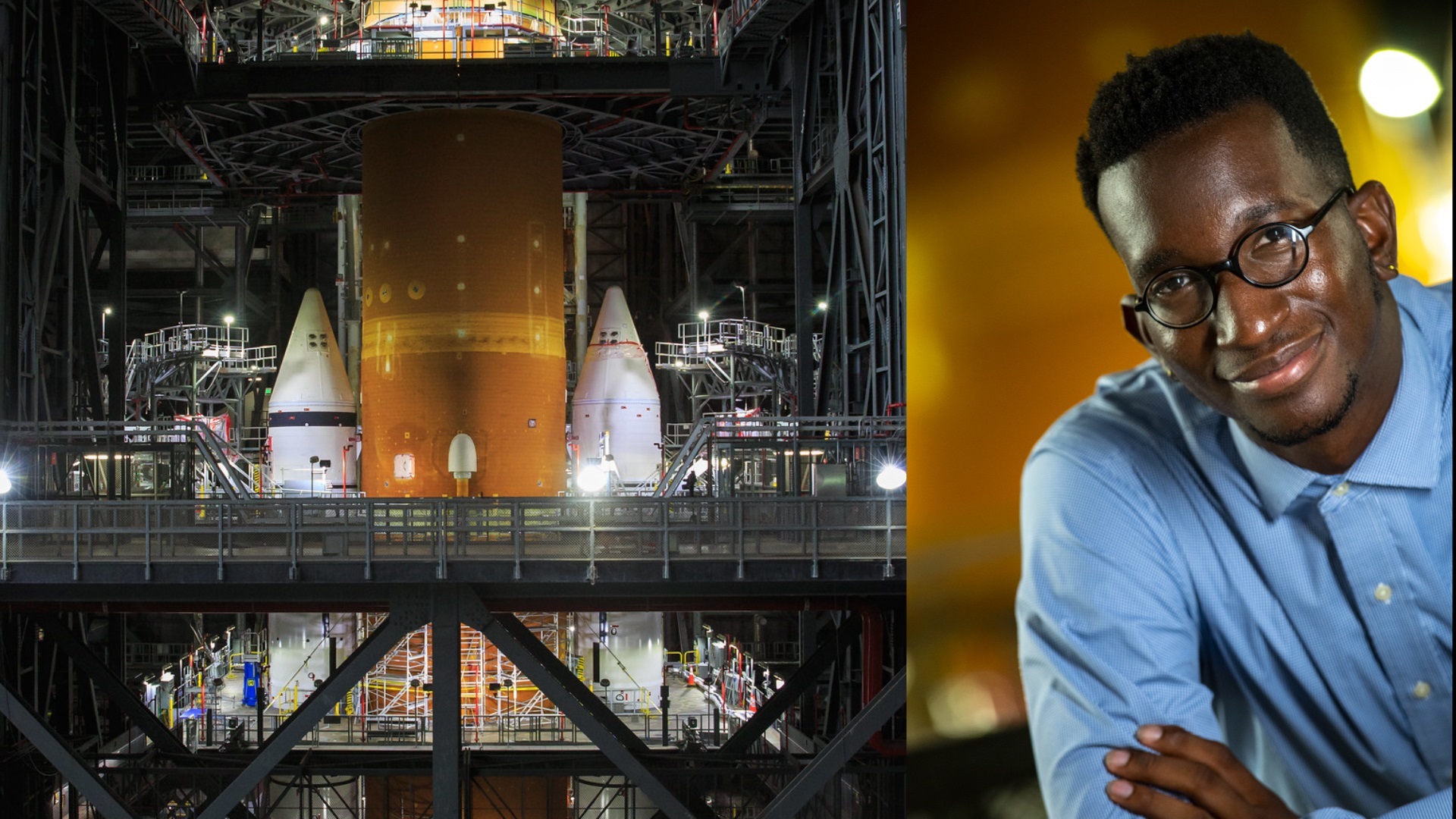 Brandon Burroughs, Systems Engineer
Brandon Burroughs is an Alabama-born Tuskegee University graduate and has been supporting all phases of the SLS program – from manufacturing operations at Michoud Assembly Facility in Louisiana, to production preparation for the Green Run SLS core stage test series at Stennis Space Center in Mississippi, to systems engineering for the Field Operations team at Kennedy Space Center. He works directly with Boeing touch-labor technicians, develops and ensures adherence to process documentation, and exchanges technical information with NASA teams. All that collaboration is helping ensure a successful integration of the Boeing-built SLS core stage with the rest of the rocket at Kennedy Space Center.
"With SLS, we're integrating some proven hardware and processes with new software and technology, so there are lessons learned we can gain from more experienced employees," Brandon said. "But in a development program we're all doing many things for the first time, so early-career employees also can have their ideas heard and contribute to this next era of spaceflight."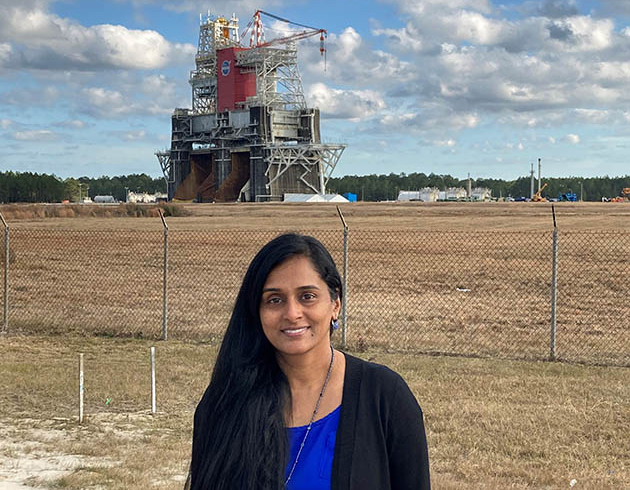 Suba Iyer, Launch Integrated Product Team leader
Suba Iyer leads the Integrated Product Team at Kennedy Space Center in Florida, supporting NASA Stages Operations for integration, assembly, checkout activities and all the steps ahead of launch of the first, uncrewed SLS mission. Suba came to America after educational leaders in her hometown colleges discouraged her from pursuing a mechanical engineering master's program, because they had never had a female student in the department.
"Whatever hurdles come your way, you cannot be deterred from your goal," Suba tells younger engineers and students. "We cannot give up. We have to persevere."

Learn more about the role Team Boeing plays in building the SLS, and discover more opportunities to launch your career with us: